CVP to Showcase the Largest Display of Innovative Production Solutions at BSC Expo 2023
 From a Virtual Production Zone, to its iconic Lens Bar and a first-ever demo of the MYT Works Opti-Glide Compact, CVP will showcase the very latest technology in film and TV production at Battersea Evolution, London from 24–25 February
 London, United Kingdom, 20 February 2023 – CVP, one of the leading providers of professional video and broadcast solutions in Europe, today has confirmed that the company will return to BSC Expo 2023 and once more take up residence on stand 001 on the Mezzanine Floor at Battersea Evolution, London. Here it will showcase its largest-ever array of genuinely cutting-edge solutions from a Who's Who of leading manufacturers, as well as highlighting the breadth of its technical expertise and the sheer range of services it provides to the film and TV production industry.
This year's BSC Expo sees CVP partner with a host of leading industry manufacturers to display, demonstrate and allow visitors to get hands-on experience with state-of-the-art innovations in a selection of unique demo areas. These include a dedicated Virtual Production zone delivered in partnership with DNABLOCK to create an immersive world with their REPLIKANT software, powered by disguise, Absen, Ncam and Brompton among others; a fully stocked Lens Bar featuring products from Atlas, Cooke, Laowa, Leitz, Tribe7 and many more; an NDI workflow station; areas for motion, shoulder rigs and handheld equipment; and a specialist area for visitors to discuss servicing and repairs with CVP's expert team. Full details of all these areas are below. And, for the first time, an exclusive demo of the MYT Works Opti-Glide Compact portable camera checkout experience will also be presented.
European Expansions
Another key focus for CVP at BSC Expo will be celebrating the continued growth the company has experienced in Europe, aided by the further development of its European Sales team and the opening of its own dedicated warehouse and showrooms in Belgium. The team behind the growth – led by René van der Reiden, Managing Director of CVP Belgium – will be on site to answer any questions related to CVP's European operations and to explain what the new office allows the company to offer its customers.
Jon Fry, Managing Director, CVP, said: "I always look forward to coming back to BSC, one of the key trade shows in the EMEA region, and this time with our largest ever showcase of avant-garde production solutions. Guests who visit us at stand 001 will get the opportunity to see the best that the industry has to offer, while also experiencing the first-class service and impartial on-hand technical expertise that our team is renowned for."
The full rundown of CVP's products and solutions showcase at the BSC Expo features:
 Virtual Production
The possibilities that Virtual Production offers are seemingly endless, with the past years seeing massive developments in the field. For 2023, CVP has partnered with the team at DNABLOCK to create an immersive world with their REPLIKANT software and demonstrate solutions harnessing the power of Absen, ARRI, Brompton, disguise, Epic Games, Kino Flo, Motion Impossible, Ncam and RED and to showcase the latest visualisation for film and broadcast applications. This showcase explores the ways in which users can incorporate affordable virtual production into their next project, with a focus on budget and creative requirements.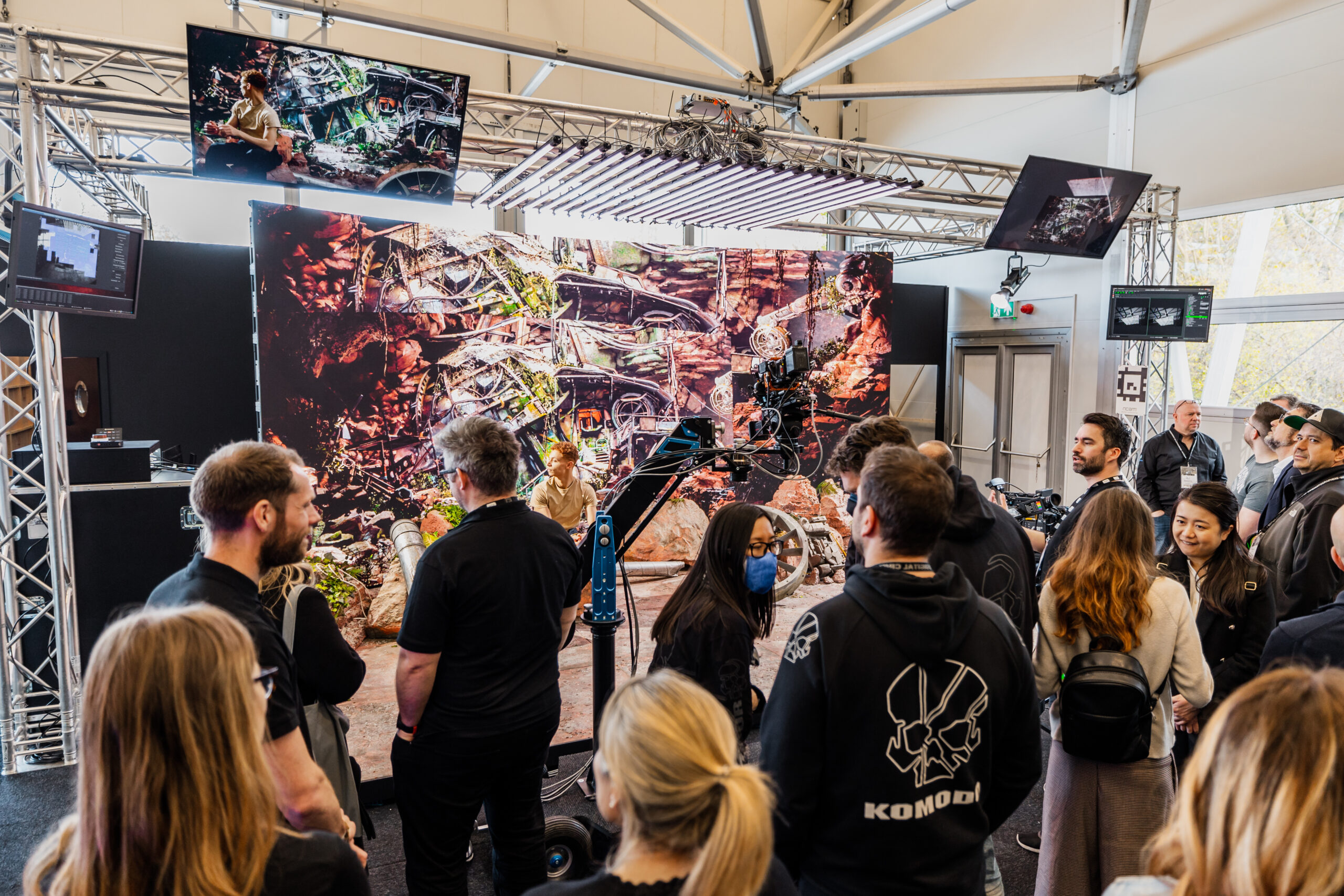 Lens Bar
Back and bigger than ever, CVP's popular Lens Bar features the largest display of new and used lenses; including Atlas Mercury, Canon Flex Zoom, Cooke Varotal, Leitz Hugo, Laowa Proteus, P+S Technovision Aproxima, Tribe7 Blackwing7 S-Tuned Amber SKIN, and more. Visitors can evaluate and compare how many of the leading lenses perform, and assess what combination of lens and filter could work for their deliverables before physical testing begins. Our experts will be on hand to guide demos and advise on all aspects of buying and selling glass.
 NDI Workflows
Explore how IP can improve live production workflows, enable more control and flexibility and maximise productivity in this NDI workflow station. Powered by NewTek Tricaster mini 4K and featuring the latest PTZ cameras, including the Canon N700, Panasonic's UE160 and the Sony FR7 at its core, this display explores the management of multi-vendor solutions via one NDI master controller, allowing operators to mix and match different camera configurations to construct workflows that suit their individual needs.
Service and Repairs
Manufacturers reserve their ASC (Authorised Service Centre) status for their most trusted and capable partners. With Service and Repair centres based in London and Brussels, CVP is proud to be the only ASC in the world approved to service all of the following manufacturers: Angenieux, Cartoni, Litepanels, O'Connor, RED, Sachtler, SmallHD, Sony, Teradek, TV Logic and Vinten. As such, the CVP team is authorised to perform 'free' in-warranty repairs to any legitimately EU-sourced product, irrespective of whether it was originally purchased from themselves or third parties. CVP's experienced experts will be on hand to discuss requirements and show some of the typical repairs, as well as demonstrate the ease of CVP's service portal.
MYT Works Opti-Glide Compact
Visitors will be able to explore this exclusive premiere of the new MYT Works Opti-Glide Compact: the first-ever portable camera checkout experience. MYT Works Opti-Glide Compact is a highly configurable camera checkout bay designed for a variety of precision positioning applications including camera rental house prep bays; lens projectors and lens calibration; and underslung camera work for special effects, commercials, and television applications.
Monitor Wall
This unique display provides the perfect backdrop to view 37 of the best monitors the industry currently offers and compare them side by side. Featuring a range from 5" to 31", all synced via a video router, the same image will be displayed simultaneously across all units to enable like-for-like comparison. This year's Monitor Wall will showcase EIZO, and Small HD's Vision 24, Smart 5 series and OLED 27, among others.
Shoulder Rigs / Handheld
Featuring over twenty of the latest and most popular small and medium form factor cameras in rigged, shoulder-mounted and handheld configurations, this zone allows visitors to explore solutions designed to improve the quality of the shoot for each individual.
Motion Area
Precise control of camera movement is critical for any production, CVP has collated the latest in motion control to allow visitors to explore the most suitable solution for specific needs – including wearables (Easyrig, Ready-Rig, Tilta), remote heads / stabilisers (ARRI, DJI, Freefly Systems), grip (Flowcine, Movmax) as well as the new DJI Ronin 4D.
Cine & Live Production Solutions
With large format cinematography and broadcast workflows more closely aligning, CVP is presenting fibre channel solutions for a range of budgets that allow broadcast and studio productions to integrate cine cameras into their workflow. Explore how to manage connectivity for multi-camera shoots from one master controller, as well as individual configurations.
This elegant showcase presents the latest fully rigged cine-style cameras from leading manufacturers including ARRI's ALEXA 35; Blackmagic's Ursa 12K; Canon's C300 MKIII and C500 MKII; DJI's Ronin 4D; Freefly's Ember; RED's V-RAPTOR XL, 'Rhino' 8K Super 35 and KOMODO; and Sony's VENICE 2 & Extension System 2, FX6, FX9 and HDC F5500, and Mini LF.
What Else To See
Visitors to CVP's showcase can also lean into the wealth of knowledge and expertise of technicians who will be available to discuss any technical questions using the company's renowned agnostic approach.
Guests working on their next big project will be able to meet with Rebecca Price, Director of finance specialist CVF, who can discuss CVF's bespoke solutions that can help take away the stress of finances as creatives embark on their new productions.
In addition to the showcases and company developments, CVP will also be hosting two exciting competitions. The first will give visitors the chance to win one of four fantastic prize packages by sharing their favourite part of CVP's stand on social media. The second competition will allow attendees to guess the value of top-of-the-line lenses displayed in CVP's iconic Lens Bar, with the closest answer winning a Sigma ART Lens. To participate, make sure you follow @cvpgroup, tag the company and use the hashtag #cvpbsc2023. See website for full terms and conditions.
Visit CVP at stand 001 on the Mezzanine Floor at BSC Expo 2023 – find out more here: https://bscexpo.com/exhibitors/cvp/
To book an appointment with one of CVP's team of experts, contact: [email protected]
About CVP
With over 35 years of experience, CVP is one of the leading and largest independent resellers of production equipment for the Media and Entertainment sectors globally, with a comprehensive sales and support infrastructure in the UK and across Europe. The company prides itself on maintaining close relationships with key manufacturers such as ARRI, Blackmagic, Canon, RED and Sony acting as an extension of their teams. CVP uses its unrivalled technical and commercial knowledge and real-world expertise to listen to customers, understand their needs and deliver the right solution for them, with global first-class service and exceptional customer experience. CVP offers creative consultation, sales advice, technical service provision and training.
For more information visit: cvp.com